Capt. John Donelson, Sr. 1696-1736
Born: 1696 in London, England.
Died: 1736 in Delaware.
Spouse: Catherine Davies.
Two children
John immigrated to Delaware in 1716. Catherine's brother was one of the early presidents of Princeton University. The children are Mary and John, Jr.
Col. John Donelson, Jr. 1725-1785
Parents: Capt. John Donelson, Sr. and Catherine Davies.
Born: Apr 7, 1725 in Somerset County, MD.
Died: 1785 in TN.
Spouse: Rachel Stockley born: 1715 in Accomack, VA; died: 1801 in Davidson County, TN.
Eleven children
Donelson was a member of the Virginia House of Burgesses and served in the Revolutionary War. Family lore (via Emily Van Dorn, from her mother) has Col. Donelson on George Washington's staff during the war. The Donelsons moved to the Tennessee frontier in 1779. There is a statue of Donelson in Nashville's Riverfront Park.
The children are: Alexander, Mary, Catherine, Stockley, Jane, Capt. John Donelson III, (who also served in the Revolutionary War), William, Samuel (whose son was Confederate General Daniel S. Donelson), Severn, Rachel (who married Andrew Jackson), and Leven.
Daughter Rachel died before Andrew Jackson moved into the White House, so Emily Donelson (daughter of Capt. John Donelson III) was made his private secretary and served as First Lady during the Jackson years in the White House. She married her first cousin, Andrew Jackson Donelson, who was raised by Andrew Jackson and Rachel. Andrew Jackson Donelson also served as President Jackson's private secretary except for one year when he and Emily were exiled to Tennesee for shunning the wife of a presedential friend. Emily's middle name was "Tennessee".
Severn Donelson and his wife Elizabeth had twin boys; they kept one (Thomas Jefferson Donelson), and the other (Andrew Jackson, Jr.) was adopted by Andrew Jackson.
Mary Donelson 1756-1823
Parents: Col. John Donelson, Jr. and Rachel Stockley.
Born: 1756 in Pitsylvania, VA.
Died: 1823 in Claiborne County, MS.
Spouse: John Caffery born: Aug 17, 1756 in Bedford, VA; died: 1811 in Claiborne County, MS.
Eleven children
The children are: Donelson, John, Rachel, Mary, Sophia, Jane, Nancy, Sarah, Catherine, Elizabeth, and Jefferson. Rachel married Col. George Walker. After she died, Walker married Rachel's sister Catherine. Sarah married George Walker's brother, Col. John Walker, and their son was Confederate Maj. Gen. John George Walker. Mary Donelson appointed her son Jefferson and her son-in-law Peter Van Dorn as executors of her estate.
Sophia Donelson Caffery 1792-1831
Parents: John Caffery and Mary Donelson.
Born: Mar 22, 1792.
Died: 1831 in Port Gibson, MS.
Spouse: Peter Aaron Van Dorn born: Sep 12, 1773 in NJ; died: Feb 12, 1837 in MS.
Nine children
Sophia's husband, Peter Van Dorn, was a Princeton graduate and a lawyer in Port Gibson. The children are: Mary Ann, Jane, Octavia, Sophia Mabella, Earl, Sarah Ross, Aaron, Emily Donelson, and Jacob. Earlbecame a Major General in the Confederate Army.
Emily Donelson Van Dorn 1827-abt.1916
Parents: Peter Aaron Van Dorn and Sophia Donelson Caffery.
Born: Feb 6, 1827 in Port Gibson, MS.
Died: abt. 1916 in New Orleans, LA.
Spouse: William Trigg Miller born: 1814 in Frankfort, KY; died: aft.1863.
Two children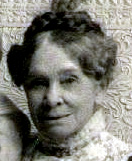 With her marriage to Trigg, Emily enters the Miller Line.