The Dabney Line as given by Susan Dabney Smedes in her Memorials of a Southern Planter (1887) and William H. Dabney in his Sketch of the Dabneys of Virginia has been criticized by others, notably by Charles William Dabney in Virginia Magazine of History and Biography , vol. XLV (April 1937), pp. 121-143.
CWD says that Sketch of the Dabneys of Virginia was based solely on family recollections rather than on documents, and was published after WHDs death, and "contains many errors in names and dates." CWD says that more would be known about the Dabney line except that (1) family papers gathered by a Dr. Charles Brown (his mother was a Dabney) were scattered or lost following Dr. Brown's death (see the details surrounding Dr. Brown's endeavor in Sketch of the Dabneys of Virginia), and (2) the vestry book containing records prior to 1680 at St. Peter's Vestry was destroyed. CWD says that St. Peter's Vestry, of New Kent County, Virginia, "was for a century the most aristocratic vestry in Virginia."
CWD's main point concerns a legend passed down through some Dabneys that the family originated with Huguenots (French Protestants) fleeing France following Louis XIVs 1685 revocation of the Edict of Nantes (1598) that for nearly a century had granted Protestants equality with Catholics. CWD notes that there was a period in the 1800s when it was fashionable to be a Protestant descended from the persecuted Huguenots, and he finds that the legend was begun at that time. He found no evidence to support this myth, and in fact, the opposite; for example, he notes that Smedes repeats the Huguenot legend but then goes on to tell of Dabney land records in America dating long before the Revocation of the Edict of Nantes! CWD found it odd that Smedes did not attempt to explain or even ponder the contradiction.
His research led to a conclusion that the Dabneys were descended from the English Daubeneys. The information below follows CWD's research and the family tree of Benjamin Dabney given by Fletcher M. Green, editor of the 1965 edition of Memorials of a Southern Planter. CWD notes that details of the early Dabney line in America, as given below, cannot be confirmed absolutely, but he adds, "However this was, they were certainly all of one family, and English."
Ivar Oplaendige, Earl of the Uplands (Norway)
Born: abt 783.
Died: ?
Spouse: Eysteinsdotter of Throndeim.
Children: Include Eystein "The Noisy" Glumra Ivarsson, Earl of More and Hendemarken (abt 810 to 872)
Eystein "The Noisy" Glumra Ivarsson, Earl of More and Hendemarken
Parents: Ivar Oplaendige, Earl of the Uplands (Norway) and probably Eysteinsdotter of Throndeim.
Born: abt 810.
Died: abt 872.
Spouse: Aseda (Aserida) Ragnvaldsdottir.
Children: Haldruc Tresney, Ragnvald of More, Malahule (Haldrick) Eysteinsson, Schvanhild Eysteinsson, Sigurd I (Earl of Orkney), Miss Fadburn

Haldruc Tresney
Parents: Eystein Glumra Ivarsson and Aseda Ragnvaldsdottir
Born: ?
Died: ?
Spouse: Thought to be Hugo de Calvalcamp of Dieppe, Normandy, France
Children: Included Ralph I (Rodulf) de Toeni Seignur, b. 955
Haldruc Tresney is said to be the 23-great grandmother of both King George I of England and George Washington. Tresney accompanied Rollo Ragnvaldsson, "Gongu-Hrolf of Norway," "Rolf the Ganger," and "The Dane," on the conquest of that part of France later known as Normandy. Rollo Ragnvaldsson became the first Duke of Normandy.
We'll leave out details of the trail, here—see the Internet.
Sir William D'Aubigné (or Albini), Knight
Came to England with William the Conqueror, and was the founder of the Daubeney family in England.
Daubeney Family of England
Includes Daubeney the Crusader (entombed at the Church of the Holy Sepulchre in Jerusalem, with the epitaph HIC IACET PHILIPPUS DE AUBINGNI CUIUS ANIMA REQUIESCAT IN PACE. AMEN.); a Daubeney who was one of the barons of the Magna Carta; Sir Giles Daubeney, Knight and sheriff of county Bucks, Bedford, etc., ca. 1445; and a Lord Daubeney buried in Westminster Abbey.
Cornelius Dabney
Parents: ?
Born: ?
Died: 1693 or 1694
Spouse: Eedth, then Mrs. Susanna Anderson
Children: James, Sarah, Dorothy, Elizabeth, John, and George
Cornelius Dabney is thought to have come to America ca. 1650 as part of the Cavalier immigration that took place as a consequence of the execution of Charles I in 1649. Cornelius Dabney served the British Crown as an agent and interpreter to the Pamunkey Indians. (The spelling of names was fairly phonetic in those days: his surname is given in other forms in documents, e.g., DeBaney, Debney, Dabony, deBonis and deBoney, but in a 1678 letter Cornelius himself signs his name as "Dabney.")
Cornelius's son George had a son, Col. Charles Dabney, who "organized the first legion to go into the Revolution from Virginia and became the trusted officer of General Washington, fighting with him at Monmouth, suffering with him at Valley Forge, and assisting him at the surrender of Cornwallis at Yorktown. Letters in his chest show that Lafayette, Patrick Henry, and John Marshall were his intimate friends." (CWD)
At this step the Dabney line is hazy. WHD, in Sketch of the Dabneys of Virginia, following family lore, puts the Mississippi Dabney line under a supposed brother (John) of the original immigrant Cornelius, rather than under Cornelius. CWD finds no evidence for a brother John in America, and is certain that all of the American Dabneys come from Cornelius. CWD is a descendant of Cornelius's son George, so he does not remark further on the branch of the Dabney line leading to the Mississippi Dabneys. We'll assume here that John Dabney 1st, below, is the son of Cornelius, and then join the family tree given by Fletcher Green, editor of the 1965 edition of Memorials of a Southern Planter.
John Dabney 1st
Parents: Probably Cornelius Dabney and Susanna Anderson
Born: ?
Died: ?
Spouse: ?
Children known: (1) John Dabney 2nd, (2) Elizabeth Dabney (married Col. William Winston of Langaloo)

John Dabney 2nd
Parents: John Dabney 1st and wife
Born: ?
Died: ?
Spouse: Three children by first wife, one by second wife
Children: (1) John Dabney 3rd (thought unmarried), (2) Nancy Dabney (married Mr. Millar), (3) George Dabney "of Dabney's Ferry," (married twice), (4) James Dabney "The Powerful" (thought unmarried)
George Dabney of Dabney's Ferry
Parents: : John Dabney 2nd and first wife
Born: ?
Died: ?
Spouse:Two children by Grace Smith, others by second wife
Children: (1) George Dabney, (2) Benjamin Dabney, (3) Dr. James Dabney, of the plantation "Exchange," (4) Maj. Thomas Dabney, (5) several daughters

Benjamin Dabney of Bellevue Plantation on the Pamunkey River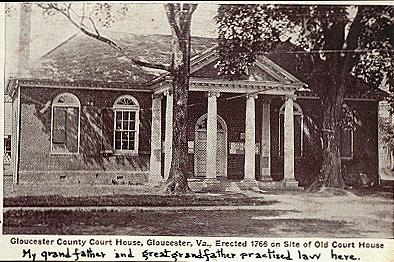 Parents: George Dabney 1st and Grace Smith
Born: 15 Sep 1757 at Dabney's Ferry, King William County, VA
Died: 26 May 1806
Spouse: Nancy Armistead, then on 11 Oct 1791 married Sarah Smith (daughter of Rev. Thomas Smith, pastor to George Washington, and sister of Dr. John Augustus Smith, President of William and Mary's College, and President of the College of Physicians of New York). Sarah married William H. Macon after Benjamin Dabney died.
Children (by NA): (1) George (25 Mar 1770 – 1 Sep 1827, married Susan Littlepage Quarles in 1792 and had 16 children); (2) Benjamin (married his cousin Ann West Dabney); and (3) Ann (married her mother's stepbrother Maj. Thomas Smith in 1791).
Children (by SS): (1) Thomas Smith Gregory (4 Jan 1798 – 28 Feb 1885, the "Southern Planter" of Burleigh plantation, married Mary A. Tyler in 1820, then Sophia Hill, daughter of Charles Hill); (2) Philip Augustine Lee (1800 – 25 Apr 1878, attorney, married Ann Robinson, then Elizabeth Osborne Smith), (3) Martha Burwell (1802-1883, married Dr. Lewis Chamberlayne); and (4,5) two unnamed children who died at birth or shortly after.
Benjamin Dabney was an attorney in Gloucester County, VA—see Gloucester courthouse picture, above. Benjamin gave up the family mansion at Dabney's Ferry, together with his patrimony upon his father's death, to his brother George. He made his residence at Bellevue, on the York River, in King and Queen County. Benjamin was a lawyer of eminence, "having but few peers, and no superior" in Virginia. The Dabneys supported the American cause in the Revolutionary War; after the war, the British government engaged Benjamin Dabney to settle British claims.
Philip Augustine Lee Dabney, 1800-1878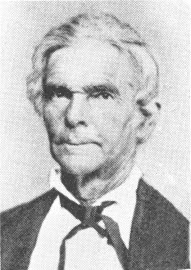 Parents: Benjamin Dabney and Sarah Smith
Born: 1800 in Virginia
Died: 25 Apr 1878, buried in Rural Cemetery, Santa Rosa, CA
Spouse: Ann Robinson, then Elizabeth Osborne Smith (14 August 1810 – 7 May 1905), daughter of Yeamans Smith and Ann Osborne Marye of Fredericksburg, Virginia.
Children (all by EOS): Frederick Yeamans (1835-1900), Augustine Lee (died in infancy), Ann Robinson (1837-1915), Elizabeth Osborne (1839-1918), Martha Chamberlayne (1841-1888), Mary Smith (1842-1931), Thomas Gregory (1844-1929), Marye (1846-1911), John Davis (1848-1910), and Anna Letitia (1852-1946).
He did not use the Philip part of his name, but went by "Augustine L. Dabney." He graduated from the College of William and Mary and established himself as a lawyer in Gloucester, Virginia. The depression of the 1820s and 1830s drove him to move from Virginia to Raymond, Mississippi, in 1835 with his brother Thomas Smith Gregory Dabney and other relatives, and he became a lawyer and Judge of the Probate Court for Hinds County, Miss. For a time, he was joint owner and editor of the Raymond Times newspaper. In news stories he was referred to as "Judge Dabney." He moved to Santa Rosa, Calif., in 1877, to live with his daughter Elizabeth Porter. His brother Thomas owned a large plantation, Burleigh, near Raymond, and was the subject of a book by his daughter Susan Smedes, Memorials of a Southern Planter (Cushings and Bailey, Baltimore, 1887). During 1-1/2 years of the Civil War, the Augustine Dabney family occupied Burleigh after Thomas Dabney fled with his slaves to Georgia as Grant's Army moved through Mississippi.
Augustine's sons Frederick, Thomas, and Marye served in the Confederate Army and survived the war. Frederick (married Agatha Moncure) and Thomas (married Frances Bowmar) were civil engineers; Thomas became known for building the system of levees on the Mississippi River. Marye (married Elizabeth Marshall) was a lawyer in Vicksburg. Ann ("Nannie") and Martha never married. Elizabeth married Col. William Wood Porter and they spent their lives in Santa Rosa, California, where Porter was a lawyer and judge. Mary married Lt. William Lynch Ware after nursing his wounds during the war. Mary wrote three books on her worldwide travels. John (married Virginia Meade, then Virginia Grant) became a physician in Mississippi and Alabama. As for Letitia, see the next entry.
Letters and Papers of Ham Chamberlayne, 1838-1882
See these excerpts from the book "Ham Chamberlayne—Virginian," where there is often mention of the Mississippi Dabneys. Ham was with his cousin Fred Dabney at the federal prison for Confederate officers on Johnson's Island. There's one letter from Fred from prison.
Virginians were rather elitist. There's a letter at the end of this document in which Chamberlayne says that traveling south as the war ended, even in his disheveled uniform he was recognized as being a Virginian. He tells of all the different people he met along the way, including "an old creature of genus (probably) man, species Georgian, variety Cracker."
Another line I like comes when Chamberlayne ends up with the family members in Mississippi, "among them so many girls as painfully to recall the fact that men are scarce—They dont seem to reflect duly on this great fact however, but are as merry as griggs—so great is the levity of the female mind."
Anna Letitia Dabney, 1852-1946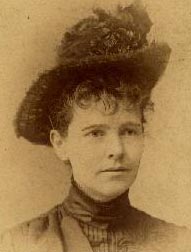 Parents: Philip Augustine Lee Dabney (1800-1878) and Elizabeth Osborne Smith (1810-1905).
Born: 8 Jan 1852 in Raymond, MS
Died: 1946 in New Orleans, buried in Live Oak Cemetery, Pass Christian, MS
Spouse: Thomas Marshall Miller (1847-1920)
Children: (1) Frederick Dabney Miller, 4 Jul 1874 – aft 1945; (2) Thomas Marshall Miller, Jr., 28 Jul 1877 – 2 Sep 1902; (3) John Dabney Miller, 3 Nov 1878 – 3 Jul 1949; (4) Earl Van Dorn Miller, 23 Jan 1882 – 1945; (5) Raymond Dabney Miller, 14 Mar 1887 – Jun 1958; (6) Emily Van Dorn Miller, 8 Jul 1888 – Aug 1982; (7) Philip Augustine Lee Miller, 28 Aug 1894 – 10 Aug 1981.
Letitia did not use the "Anna" part of her name.
Here the trail enters our branch of the Miller line through Letitia Dabney Miller's fourth child Earl Van Dorn Miller.